Jan. 8-10 Western Sharpeners' Workshop  Everett, WA  Western Sharpeners Workshop featuring Knife, Shear and Clipper Repair sessions. See vendors: Wolff Industr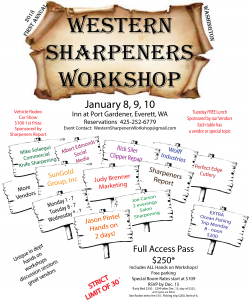 ies, SunGold, Perfect Edge Cutlery and possibly Ft. Worth Shaver & Clipper outlet. Sharpeners Report will be attending!
Early Bird pass to 3 day event:$250.  Book hotel by Dec. 10  Inn at Port Gardener Tel: 425-252-6779. Closest Airports: SEATTLE  Email inquiry: westernsharpenersworkshop@gmail.com
March 1-3 Int'l Saw & Knife Assoc. Winter Meeting in South Padre Island, TX. Topic: Succession Planning. Plus ISKA Board Meeting and Fishing Trip! Attendees must be members of ISKA. A variety of topics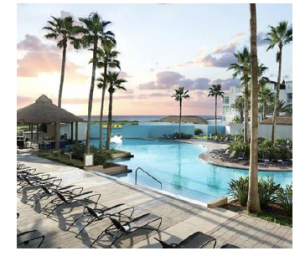 will be covered in the presentation, including:
Goals for exiting a business; Options for succession planning; Selling to a third-party buyer; Selling to management, employees, or other shareholders; Gifting or estate exit strategies; Tax and legal issues that may impact an exit.
Rob Hilton, director in Katz, Sapper & Miller's Valuation and ESOP Services Groups will share strategies for industrial saw and tool sharpening business owners. All ISKA members invited. RSVP Dan@quinnsaw.com   Join ISKA to attend if not already a member. Visit iska.org Hotel  bookings by Dec. 30 please at the Pearl Resort, Tel 956-761-6551. Aiports: HRI, or MFE.
Sharpeners Report will be attending, as our Editor serves on the ISKA Board.