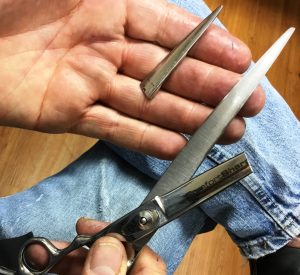 See more on this topic in our April 2018 newsletter issue
Let's start with some definitions:
Casting: Basically, It is the process where one Heats up metal until it turns into a liquid soup and pour it into a mold. Let it cool off, remove it from the mold (or break the mold), and you've  got a casting.
Forging: Here, a manufacturer heats up metal until it can be shaped with force. It is forced into shape by hammering or pressing it into something, cooled, and you got your forged piece.
Now, how to tell the difference?  First, let's remember WHY you need to know the difference. If a shear is sharp but not cutting, the triangle factor of  Tension, Edge & Alignment comes into play. The weakest part of the triangle will determine the cut of the shear. But if you attempt to bend a shear that has been cast, it is likely to break. Particularly if the metal has been made to a Rockwell hardness of about 60.
At manufacturers, cast shears are made by machines, whereas, forged pieces typically require more hand work. The Best bet is to ask the manufacturer how it was made. When unknown, there are some techniques you can try. Hammering to fix alignment may be necessary when a shear is too brittle and resists light pressure in a scissor bender. Read more in our April 2018 issue. To learn more about scissor and handle processes, reference these documents by JP PLAN with their permission for sharpening eduation informational purposes.
making scissors at factory-examples of processes
MAKING HANDLES OF SCISSORS EXAMPLES